Your private e bike tour around Loire Valley chateaux and Chenonceau visit
Morning
Your guide will pick you up by minivan at your hotel and take you to the city of Amboise, where your day will begin with an overview of this royal city. Upon your arrival, you will be struck by the power of history and the beauty of its white stone, so emblematic of the Loire Valley. A panoramic view will be an ideal way to realize the wild beauty of the Loire, the longest river in France.
Get on your bike, and head off towards the Chateau de Chenonceau, riding through vineyards, picturesque villages and along the banks of the river Cher, the local countryside will surprise you for sure ! Your guide will stop several times to explain the history of the region, the vineyard and the sweetness of the Touraine way of life.
Lunch
For lunch, we can offer you several options, a picnic (upon reservation) or lunch in a restaurant of your choice around Chenonceau, with a nice glass of local wine.
Afternoon
Let's now discover the Château de Chenonceau, architectural jewel of the Renaissance.
This guided tour will show you the masterpieces of the castle, as Chenonceau is home to an extraordinary collection of furniture, tapestries and paintings.
Let's continue the visit with Catherine de Medicis and Diane de Poitiers' gardens, and enjoy spectacular views of this magnificent castle, remarkable for its arches elegantly spanning the River Cher.
Then back on your e-bike for a ride through the beautiful countryside around the chateau. Follow your guide, he will be happy to show you the charming landscapes on your way back to Amboise.
Your guide will accompany you back to your hotel by minivan for a well-deserved rest !
Level : Medium
Distance : 45 km
Elevation : Low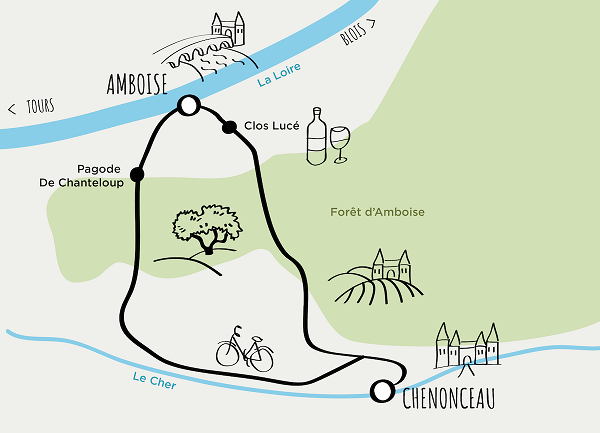 PRACTICAL INFORMATION
You must be used to riding a bike and in good physical condition to participate on this tour; please let us know if you have any health problem.

We recommend you to wear suitable clothing, comfortable sport shoes and to bring a backpack with a water bottle and sun cream.

In case of heavy rain, the bike tour may be replaced by the same tour in a minibus. The decision will be made with the whole group at the time of departure.