Enjoy 10% off your e-bike tour in may with the code ILOVEBIKE
Full day e-bike tour in the Luberon region from Aix-en-Provence
Meet your guide in Aix en Provence at 8am and set off for a wonderful e-bike tour through the Luberon.
Morning
Your guide will take you on the short drive aboard our minibus to the village of Bonnieux where you will collect your e-bikes. This is one of the most impressive Luberon villages and has stunning views out across the patchworked valley of orchards and vineyards surrounding it.
Time to climb on your e-bike and get pedalling!
The first part of your e-bike ride will take you through olive tree plantations, vineyards and lavender fields, some of France's most beautiful landscapes!
Follow your guide to the village of Oppède le Vieux, one of the most authentic hilltop villages of the Luberon region.
From there you will cycle to a local olive oil estate for a tour and tasting. Visit its fascinating olive oil museum and learn all about olive oil production as you taste the different varieties of oil. Your visit ends with a guided tasting session of local wines.
Lunch
Time for a break for lunch (not included) in the lovely village of Ménerbes, listed as "one of the most beautiful villages in France". Don't miss the incredible views over the valley and neighbouring villages.
Afternoon
After lunch time you'll hop back on your e-bike for a lesiurely ride to a viewpoint overlooking Château de Lacoste. Spot the Luberon's unmissable 11th century jewels, the Abbey of Sainte Hilaire and the village of Bonnieux.
From there you'll cycle back to Bonnieux, ready for the drive back to Aix-en-Provence where you will arrive at 4pm.
Level : Medium
Distance : 35 km
Elevation : Medium+ / 300m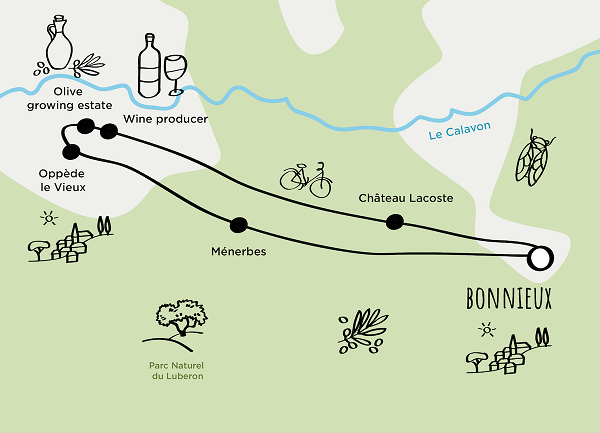 Practical information :
- You must be used to riding a bike and in good physical condition to participate in this tour; please let us know if you have any health problems.
- We recommend you wear suitable clothing, comfortable sports shoes and to bring a backpack with a water bottle and suncream.
- In case of heavy rain, the bike tour will be replaced by the same tour in a minibus. The decision will be made with the whole group at the time of departure.
You must indicate your size at the time of booking.