Your Medoc e-bike tour itinerary
09.30 am: Your A la Française guide will come to pick you up at your hotel in Bordeaux. As you are driven from Bordeaux to Margaux your private guide will provide you with lots of information about the Bordeaux & Medoc wine regions.
Take an easy ride on your electric bike through the beautiful Medoc vineyards. Enjoy seeing some prestigious estates such as Château Margaux, Château Kirwan and Château Cantenac Brown; the best wineries of Bordeaux!
For lunch (option non included, approximatly 30-40€/pers) we recommend a lunch in the gardens of the stunning Chateau Marquis de Terme (or inside the chateau in case of bad weather), or we can carefully select a charming local restaurant for you.
In the afternoon, you begin a private visit of a beautiful 1855 Classified Growth Château to learn everything about the winery and winemaking of the Medoc region. You will also enjoy a wine tasting sessions of the Château wines.
After the visit, you will leave the Medoc and be driven back to Bordeaux.
3.30pm: Arrive back at your hotel in Bordeaux.
Level : Easy
Distance : 15 km
Elevation : Low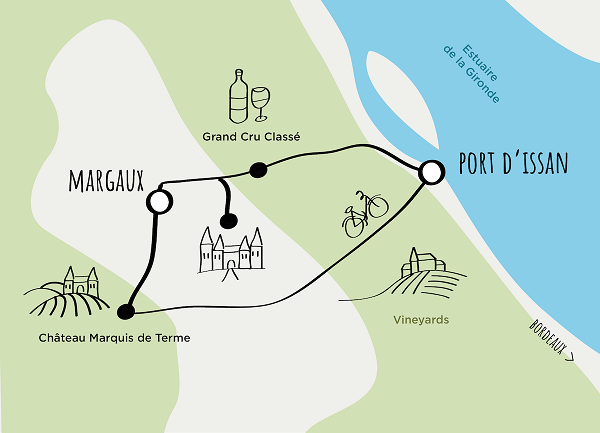 PRACTICAL INFORMATION
- You must be used to riding a bike and in good physical condition to participate on this tour; please let us know if you have any health problem.
- We recommend you to wear suitable clothing, comfortable sport shoes and to bring a backpack with a water bottle and sun cream.
- In case of heavy rain, the bike tour may be replaced by the same tour in a minibus. The decision will be made with the whole group at the time of departure.
- The picnic lunch cannot be altered at the last minute on the day of the excursion; in case of food allergies, please let us know when reserving your tour.