Enjoy your private e-bike tour in Saint Emilion
This made-to-measure wine and bike tour is designed "just for you" by our expert local team who will choose the best wineries to visit!
Visit and discover the famous vineyards of Saint-Emilion by bicycle! You will ride through the vineyards and see the famous chateaux of the region. During the day you will visit two chateaux: a beautiful family-run estate & a Great Classified Growth estate. Your private tour guide will tell you all you need to know about the region and the diversity of Bordeaux wines.
Then, you will enjoy a guided walk in the UNESCO World Heritage medieval village of Saint-Emilion.
In this region, Merlot is the king of the grape varieties!
09.30 am
: Your A la Française guide will come to pick you up at your hotel in Bordeaux. As you are driven from Bordeaux to St. Emilion your private guide will provide you with lots of information about the Bordeaux & Saint-Emilion wine regions.
Your bike ride begins with a cycle in the middle of the vineyards of Saint-Emilion. Enjoy seeing prestigious wine making estates such as Chateau Petrus or Cheval Blanc!
Your first winery visit of the day will be at a charming family run chateau. You'll tour the chateau and learn about the traditional way of making wine!
Back on your bike, take an easy ride through the beautiful Saint-Emilion vineyards to the village of St. Emilion. Enjoy a guided walking tour through the famous village which dates back to the Middle-Ages and is UNESCO World Heritage classified.
After your village tour, it's time for a visit and wine tasting session at a Classified Growth chateau of Saint-Emilion. You'll enjoy a guided tour of the chateau, learn about the winemaking process, from the vine to the bottle and finish by a tasting of the estate's wines!
6.30 pm:
Your tour will end and you will be dropped off at your hotel in Bordeaux.
For lunch (option non included, approximatly 30-40€/pers) we recommend a lunch in the garden of a lovely family run chateau (or in the dining room of the chateau in case of bad weather), or we can carefully select a charming local restaurant for you.
Level : Easy
Distance : 15 km
Elevation : Low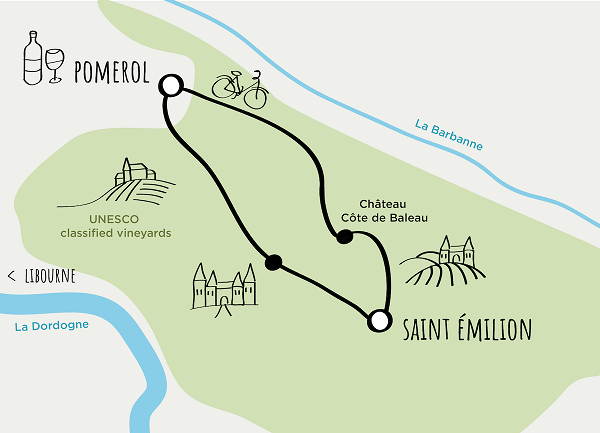 PRACTICAL INFORMATION
You must be used to riding a bike and in good physical condition to participate on this tour; please let us know if you have any health problem.
We recommend you to wear suitable clothing, comfortable sport shoes and to bring a backpack with a water bottle and sun cream.
In case of heavy rain, the bike tour may be replaced by the same tour in a minibus. The decision will be made with the whole group at the time of departure.
The picnic lunch cannot be altered at the last minute on the day of the excursion; in case of food allergies, please let us know when reserving your tour.