Medoc Wine & Electric Bike full day wine tour
9.30am: Meet your friendly local guide in the center of Bordeaux in front of the tourist office. Climb aboard our luxury minivan and travel in comfort for your drive to the vineyards of the Medoc region!
Arriving in the Medoc it's time to hop on your e-bike and head off for a ride across the rich landscapes of the never ending Medoc vineyards. Admire the beauty of the world-famous Bordeaux chateaux as you cycle. See the prestigious estates of Château Margaux, Château Kirwan and Château Cantenac Brown; the most renowned wineries in Bordeaux!
Your ride continues on towards the stunning Chateau Marquis de Terme, a Great Classified Growth estate where you will enjoy lunch followed by a tour and tasting.
Relax for a picnic in the shade of the chateau's gardens on a private terrace and listen to the birds singing as you enjoy the calm of the vineyards. Enjoy a selection of typical French produce from the local market for a Bordeaux country-style picnic lunch, paired with a glass of wine.
After lunch at the chateau, it's time for a private guided tour of Chateau Marquis de Terme. Follow your guide to learn everything there is to know about this prestigious Medoc winemaking estate. Meet local personalities passionate about their region who will be delighted to share their knowledge of the wine-making process with you, all the way from the vine to the bottle. Your chateau tour will conclude with a guided tasting session of 3 of the chateau's wines.
3.30pm: After your day cycling through the vineyards of Medoc, it's time to leave your e-bike behind and make the drive back to Bordeaux center. You will return full of an appreciation for one of the world's most famous wine regions.
Level : Easy
Distance : 15 km
Elevation : Low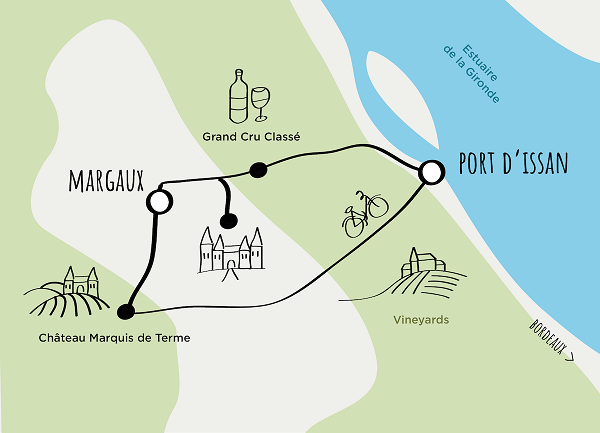 PRACTICAL INFORMATION
- You must be used to riding a bike and in good physical condition to participate on this tour; please let us know if you have any health problems.
- We recommend you wear suitable clothing, comfortable sport shoes and to bring a backpack with a water bottle and sun cream.
- In case of heavy rain, the bike tour may be replaced by the same tour in a minibus. The decision will be made with the whole group at the time of departure.
- The picnic lunch cannot be altered at the last minute on the day of the excursion; if you have any food allergies, please let us know when reserving your tour.